Ran Muratsu:
I know that, since 2016, your research focus has been on multispecies medicine in Mongolia. First, I would like to hear about your opinions on the Coronavirus from that perspective.
Fijn Natasha:
I am currently part of an international team that is working on Mongolian Medicine and the transmission of knowledge. Part of that is in relation to the conceptual framework of "One Health*1." One health is a comparatively new medical framework, which is a combination of human medicine, veterinary medicine and environmental factors. This interdisciplinary approach across species has not been explored much within the humanities and social sciences, and part of our project is how we can look cross-culturally at Mongolian Medicine, applied within local contexts through fieldwork.
I have just written two articles about marmots and the plague by attending to multispecies connections. One paper focuses on how marmots, fleas (which are the vectors of the virus), plague bacteria and other species are part of an interconnected socio-ecology. Mongolian herders hunt and eat the marmot as a delicacy and perceive the marmot as having powerful medicinal qualities, which means that the long cultural heritage and cosmological perceptions of the marmot tend to outweigh their fear of the plague, even though there are a few cases of young men who have hunted marmot that die every year from the plague in Mongolia. The Coronavirus is another disease that crosses between species and there is currently a debate about where the Coronavirus originated, whether it resided in bats or birds, and then what the carrier is, whether it's a pangolin or a civet. With rapidly mutating viruses it is complicated because the divide between species becomes malleable. I agree with Eben Kirksey, in that we need to get away from focusing on the origins of such viruses, trying to apportion blame through pinpointing specific locations and focus instead on the way the virus is transferred between different species and the preventative measures we can adopt*2.
Mongolia has been pretty good at keeping Coronavirus out of the country. I think part of the reason is that, as a predominantly nomadic pastoral nation, they have often had to deal with these kinds of zoonotic diseases in the past, like the plague, or other zoonotic diseases that are in both humans and domestic animals, like brucellosis, or foot-and-mouth disease, and anthrax. Essentially Mongolia has been working according to a One Health framework for thousands of years, well before doctors and vets in the biosciences started to say that attention to illnesses across different species was the best way of countering zoonotic disease. There is a long tradition of quarantine and isolation against disease in Mongolia. For example, there was a couple who died from eating raw marmot meat for medicinal purposes last year, in early May 2019, and quarantine was immediately declared within the local township they were in, so Mongolians are used to these kinds of measures. But then within the herding community, their response is more related to preventative measures, like being aware of the signs, such as a horse that has a running nose and stumbling could be an indication of horse flu; or sentinel marmots failing to give warning calls and behaving in a sluggish manner, is a sign that the marmot colony may harbor the plague. So the government must integrate biomedicine techniques, such as vaccinations, with those that integrate the herding community's knowledge, including warning signs and preventative actions.
§
Muratsu:
What do you think the impact of coronavirus on our medical and health perspectives has been?
Natasha:
I think the coronavirus has heightened our awareness that we can't afford to be as anthropocentric about infectious diseases and just focus on the human body and only on human health. Biomedicine and Western medical frameworks are very compartmentalized. Annemarie Moll published "The Body Multiple*3" and she adeptly showed how the medical system is divided up into different ontologies. Also, she and John Law wrote about sheep in Cumbria*4. They point out that the farmers look at the sheep in one way, veterinarians look at sheep in another way, as do, and epidemiologists on a different scale again. What we need to do as anthropologists or social scientists is to think of all these different perspectives and how they could tie together in terms of health. I think Mongolian medicine is more holistic and does not just cordon aspects off into separate kinds of disciplinary categories. A healer may apply a particular medicinal plant to a cow after she has given birth or a man who is having kidney problems, with different amounts and perhaps compounded with other specific ingredients. The trouble is that traditional medicine is not as able to cope with these newly mutated, virulent diseases, because you really need to rely on vaccinations. There isn't the accumulated knowledge over the centuries in how to counter diseases with such a rapid spread. But, what Mongolian medicine is good at is thinking of how to prevent such illnesses in the first place, by building up immunity, staying healthy and trying to keep the surrounding homeland (or nutag) in balance through looking after it. I think that these elements are common to the philosophies of a lot of these different traditional medicine approaches, like Japanese, Chinese, Tibetan or Ayurvedic medicine. Mongolian medicine is much less well known but, although inherently pluralistic and having adopted techniques from these other 'traditional' medicinal techniques, there are many long-held practices unique to the Mongolian Plateau.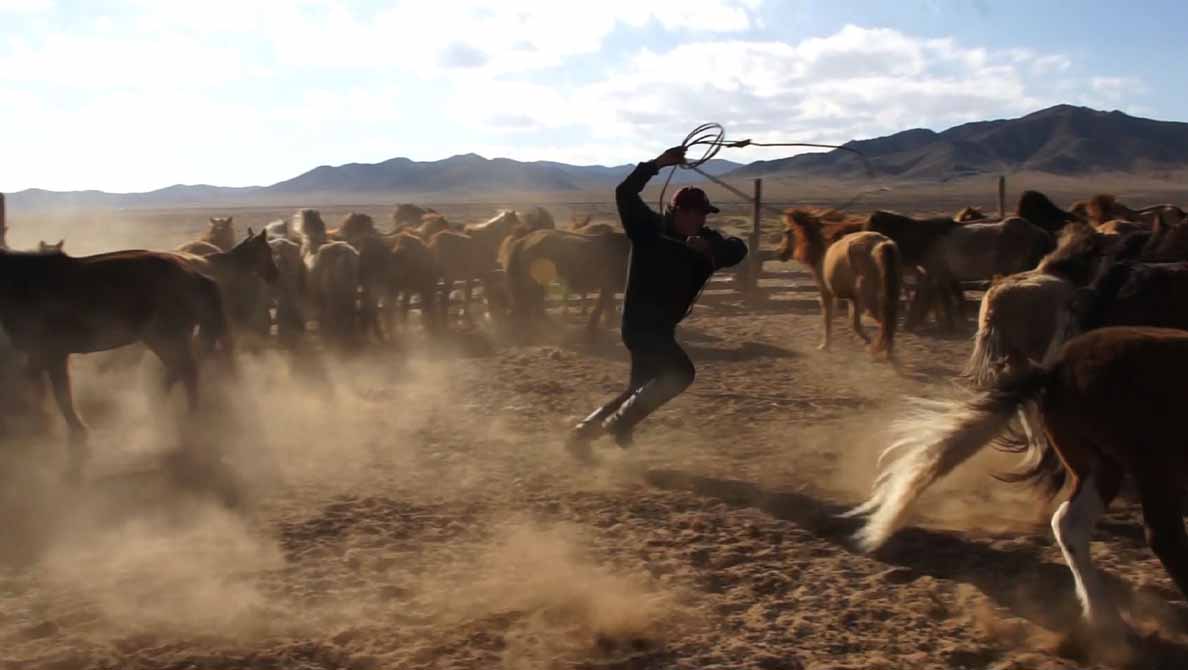 Young herder throwing a lasso to capture a horse for blood-letting, Mongolia.
§
Muratsu:
Speaking of your research, you make ethnographical films besides conventional text-based ethnography. In this century, the interest in filmmaking as an integral part of ethnographic research has increased through both technological developments and theoretical paradigm shifts from symbolic structure to practices and senses within anthropology. Visual Anthropologists now use many filmmaking styles ranging from experimental to fictional films. Yet, "observational cinema" still remains popular and dominant. "Observational cinema," which you are committing to, is a cluster of documentary film styles including Direct Cinema and Cinéma Vérité*5, which was made possible by the development of portable synch sound systems and light cameras in the 1960s.
Could you talk about how you arrived at your filmmaking style of "observational cinema" and what its features as a research method are?
Natasha:
I had a background in animal behavior, and I've worked with natural history filmmaking in the past. But when I first came to The Australian National University to conduct my doctoral research in 2004, I realized that ethnographic filmmaking was accepted as a part of anthropological research and that I could incorporate filmmaking as part of my field method. I was lucky to have David and Judith MacDougall*6 based at my university. The thing about the observational film is that you want your audience to feel like they're actually almost there with you, immersed in a different context as if they are part of the whole thing, rather than quick, edited cuts that may be jumbled up in time and space and are inevitably less embedded. Another renowned filmmaker, who was based at the ANU was Gary Kildea and he would say how the audience should be immersed "in the dream" within a documentary, not jolted out of it all the time by external narration like an omniscient being. I realized that observational filmmaking was more in alignment, both stylistically and ethically, with what I wanted to convey with regard to animals because I felt with natural history filmmaking, it was often staged and more like a docudrama than reality. With observational filmmaking, it is actually a process of recording events as they unfold and it's not about having a script or a prior agenda. I mean, it's only having a direction in terms of the concepts and ideas, so it's an ongoing process influenced by being embedded in a field site.
§
Muratsu:
Yes, and also, by not including explicit narration or staging and concentrating on the field's practices, observational films imply the story of the subject is more important than the agenda of the filmmaker. That attitude coincides with the anthropological commitment and maybe that explains why it's the major style of anthropological filmmaking. Speaking of MacDougall, he pointed out that "observational filmmaking was founded on the assumption that things happen in the world which are worth watching, and that their own distinctive spatial and temporal configurations are part of what is worth watching about them*7." I think your film "Yolngu Homeland" succeeds in making the audience feel the pace and temporality of the place. What were the points you thought about to achieve this effect?
Natasha:
Yes, establishing pace and context was a key aspect I learned from David MacDougall and I applied this within "Yolngu Homeland*8." I would ask him to come in as a guest lecturer within a Masterclasses of Ethnographic Filmmaking course I used to coordinate. He would say that within the first five minutes of a film you want to portray the pace and show the audience how it's going to be for the rest of the film. So if you start off the pace slowly then the audience accepts that the rest of the film will continue at that pace. That is why I started the film with a quiet morning, to give an indication of the slow pace of 'Yolngu time'. I also wanted to indicate what it feels like to be within a remote Aboriginal community. Often it is quiet and things happen slowly and then suddenly there will be a flurry of activity as the sun warms everyone up.
Vimeo: Natasha Fijn "Yolngu Homeland (Trailer)" (2015)
§
Muratsu:
Ethnographic film is a way to convey what Malinowski called "imponderabilia," which is the uncountable qualities of everyday life, such as voice tones, the texture of materials and so on. Imponderabilia is said to be one of the elements the ethnographer has to research on, but unlike social structures and narratives, it is difficult to express them only through text. In your film "Yolngu Homeland," I felt the quality of imponderabilia, especially when a woman on the seashore narrated a folk story of a boy who did not share the caught fish with people and became a sea eagle. Could you talk about the motivation of that scene?
Natasha:
The decision to tell that story was the Yolngu elder who told it, as the sea eagles were defending their nest against a couple of crows and causing a flurry of activity nearby, while we were cooking seafood collected earlier. She wanted me to make the connection between the live sea eagles and cosmology. The tale she told is a well-known story and has been written in English for education within classes within Yolngu homeland schools. You can read the story in a book but I wanted to show it in a way that is meant to be told, out on country, in the correct context for the storytelling. It is a story for children but they need to sit and listen to this story on the land when the sea eagles are calling above so that the children can connect the eagle in the story to the real eagle circling in the sky, that makes the story much more poignant than being all out of context within a book in a classroom. The eagle's meaning has multiple levels. It is not only actual eagles on the coast, but the eagle is also directly connected to the children listening to the story because the human, the children's ancestors, turned into the eagle and so you can think of themselves as the part eagle, in that the sea eagle may be their totemic animal. The animal has a lot more meaning to Yolngu children hearing the story because it has the ability to morph between human and eagle, into different forms. It also allows Yolngu to think from the perspective of the eagle.
§
Muratsu:
So you were conveying the imponderabilia aspects of the folk stories, as well as the concept of the 'multiple being,' in your terms.*9 But conveying the quality of imponderabilia is not only limited to the film. Currently, centering around the U.S., the concept of "multimodal anthropology" is suggested instead of the use of the term visual anthropology, reflecting rapid developments of different media ecologies both in the field and the societies that anthropologists are belonging to. I think this multi-modality does not have to stop at media-related practices but it can extend to ethnography with sensory and physical involvement. For example, we have made ethnographic installations in a gallery, where the audience has to create charms to protect themselves. It was to get them to experience the universal phenomena that materials can grow in power through human practices. Could you talk about your practices and opinions about multi-modal anthropology?
Natasha:
I am all for the use of multimodal means of communication with different kinds of mediums. I love the new direction of podcasts and using audio to delve into research. Academics still more readily identify with the medium of the book but I think it is also important to include these other elements. I want to go beyond just a small academic audience and to convey ideas and concepts to the general public. I have always wanted to reach people with interests in my research, beyond academia.
I do like experimenting with different modes of communication. In each project, I think, how I can communicate this in the best way? Recently, in 2017, when I was filming in the field for the observational film I made, "Two Seasons: multispecies medicine in Mongolia*10, I filmed quite a few instances of bloodletting in horses (where practitioners puncture at different points and draw blood out for medical reasons). I have been working on a piece that was instigated by attending a conference on fluids, organized by medical historians and we subsequently produced essays using the tool Shorthand, which is often used by newspapers and magazines to convey investigative journalism. You can scroll down the page and the images can change as you scroll down. It becomes a kind of stop-motion animation, through the inclusion of multiple still images, I really enjoyed adapting to using Shorthand as a new tool for communicating my research on bloodletting, resulting in three separate photo essays within the piece*11.
I have also been employing a GoPro camera lately to gain the perspective of others. Earlier this year, just before the coronavirus impacted all of our lives, I co-curated an exhibition with my partner and other artists, as part of my experimentation with different ways of communicating to different audiences. It was called "More Than Human: The Animal in the Age of the Anthropocene*12." For my filmic piece within the exhibition, I put a GoPro camera on the helmet of a young Mongolian herder riding on horseback, engaging with the experience of human and horse in the face of climate change. The horse and herder had to navigate through a snowstorm, trying to find the rest of the horse herd. The horse neighs at the herd in the distance and the other herd neighs back. It resulted in quite nice footage, as you could see how both human and horse engage with the landscape together, as one entity. We experienced these terrible bushfires last summer surrounding where I live, an hour from the capital, Canberra, in Australia. I recorded horse and rider moving through blackened, burnt out forest soon after fire had swept through the area. I wanted to show how climate change is affecting the environment in quite different ways, through severe snowstorms in Mongolia to the extreme heatwaves causing fire in the summer in Australia. Within the exhibition, I placed the two contrasting scenarios, one predominantly white, the other blackened, next to each other, as both horses and riders navigated through their changing world.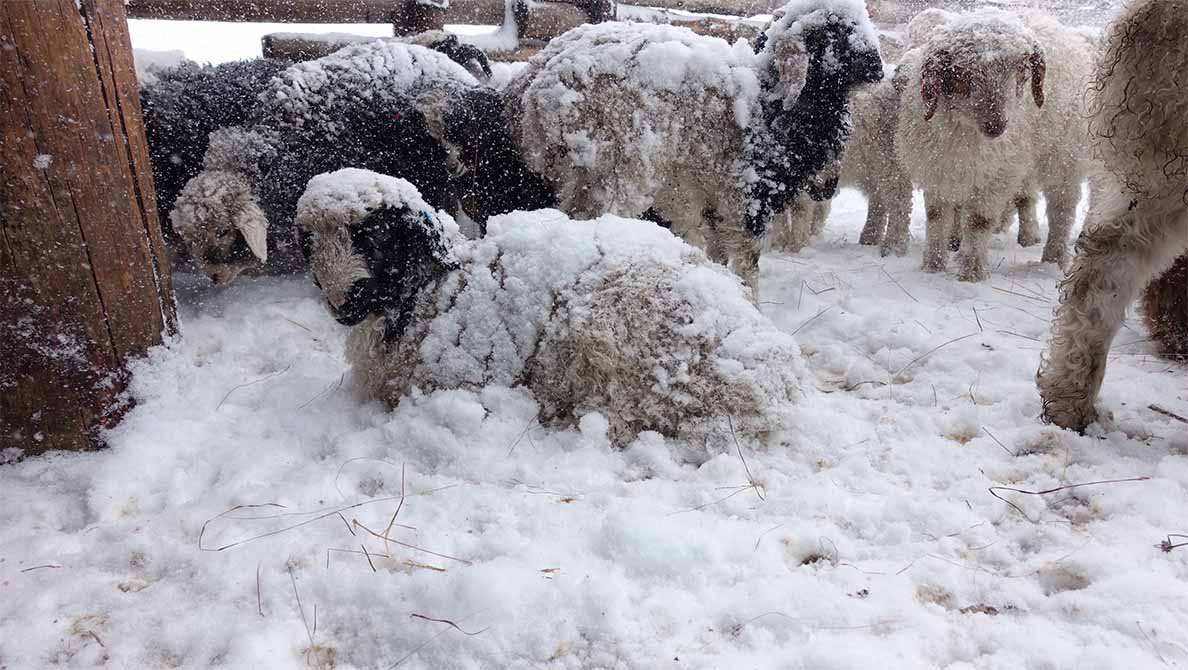 Lambs sheltering together during a spring snowstorm, Mongolia.
Ultimately the purpose is to get people to understand that you can perceive our engagement with other animals and the land in different ways. Some people are concerned about consuming meat, so domestic animals become like machines or just products for consumption. But I would like people to think beyond that and think about how there are different ways of engaging with animals by showing different perspectives and ontologies towards animals in other cultures.
I have been part of the KAKENHI project on Multispecies Anthropology*13 that Prof. Okuno has been coordinating and I have done some fieldwork as part of this project on mounted archery in Japan, observing the Yabusame festival in Tokyo and the Kasagake Festival in Kyoto in September 2018. Again, in September last year, I observed an international mounted archery festival in Ulaanbaatar, Mongolia, to compare human-horse sensory ethnography and the socio-cultural engagement within the two different contexts. I have also traveled to Tokyo to present within the seminar series as a part of the project and lectured to doctoral students about my approaches to multispecies studies. It has been great to have the opportunity to be a part of this multi-year project and to engage with Japanese scholars focussing on multispecies anthropology.
§
Muratsu:
The ways that you are broadening the style of anthropological engagement in the field, as well as reaching out to the public is very interesting and stimulating. By thinking through your concepts, it could be said that what we are aiming at might be called "multiple anthropology," in the sense that anthropological practices are enacted in multiple ways. Thank you for sharing your very insightful ideas about Coronavirus, multispecies and anthropological engagements today.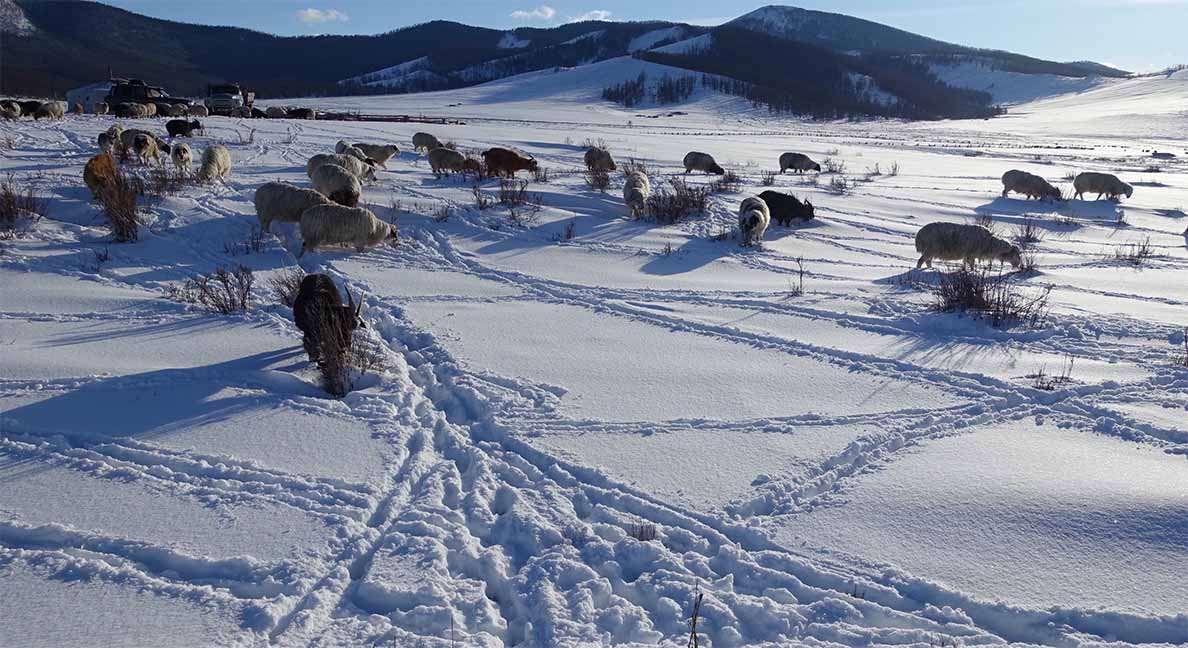 Sheep and goat trails in fresh snow near the herding encampment, Mongolia.
---

More-Than-Human